The research centers, universities and institutions participating in the project are: the University of Barcelona (UB), the Institute of Photonic Sciences (ICFO), the Catalan Institute of Nanoscience and Nanotechnology (ICN2), the Institute of Materials Science of Barcelona (ICMAB), the Institute of Energy Research of Catalonia (IREC), the King's College of London (Oxford University), the Academy of Fine Arts Francisco Valderrama and the Èpica Foundation,
About NANOCAEDRE: hybridizing art and nanoscience
The project aim is to hybridize science and art. The project aims to create an intersection point between art and science to approach in a different and original way the world of nanoscience and nanotechnology through contemporary fresco and other artistic disciplines. NANOtechnology, Science and Art merge into a symbolic figure, an incomplete dodecahedron. A polygon of seven pentagons that will represent in a visual way the transdisciplinarity of nanotechnologies, through seven different proposals. The NANOCAEDRE will be the gateway to the nano world.

The challenge of the project is to unite nanoscience and art, starting with two projects in parallel. The first project is based on a series of works co-created by an artist, Francisco Valderrama, and nine researchers: Laura Lechuga (ICN2), Sònia Estradé (UB), Susagna Ricart (ICMAB), Frank Koppens (ICFO) Antoine Reserbat-Plantey (ICFO), Teresa Andreu (IREC), Ismael Díez-Pérez (King's College), Sònia Trigueros (Oxford University) and Jordi Díaz-Marcos (UB / ACCC). The artist, in collaboration with each one of the researchers, uses the appropriate methodologies, strategies and artistic disciplines to express represent the different research fields. Susagna Ricart's contribution to the project is based on the superconducting materials principles.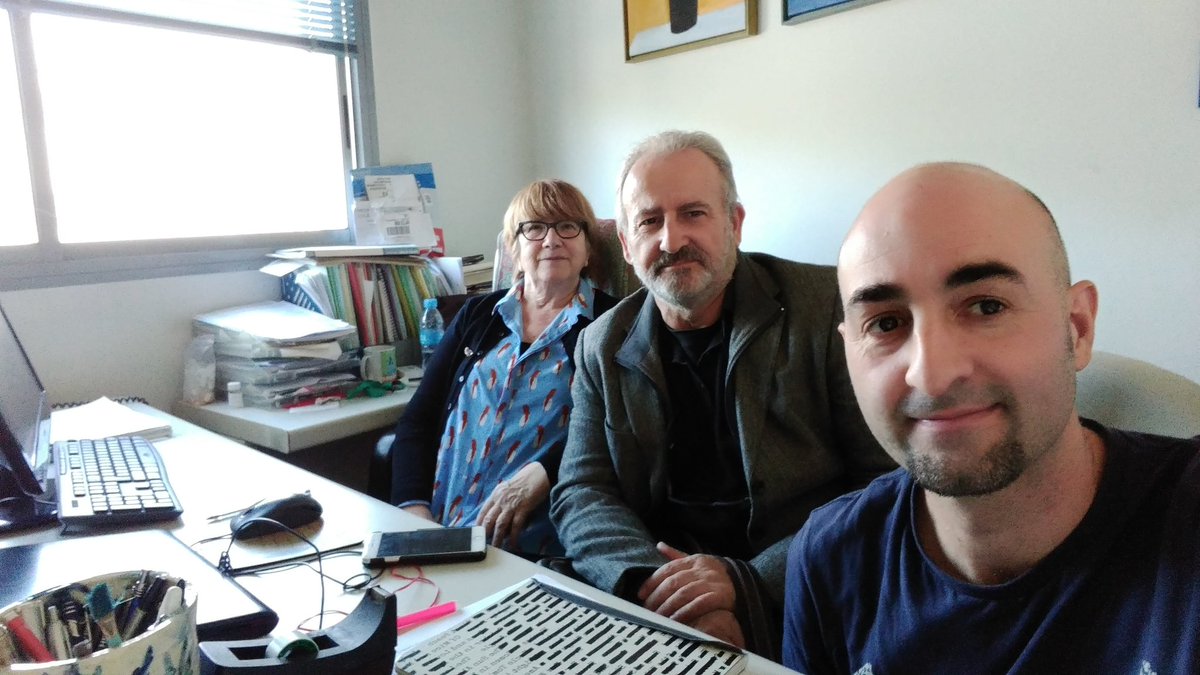 Susagna Ricart, Francisco Valderrama and Jordi Díaz at Susagna's office at ICMAB
The second project is based on a series of art and science dialogues in different singular spaces, where the hybridization of science and art from different disciplines and from different hybridization actions will be discussed. This project is in collaboration with the Epic Foundation (Fura dels Baus) and Enrique Conches (Punk Design).
10 DEC: NANOÈXODE
7:00 pm: Presentation of NANOCAEDRE - Jordi Días (UB/ACC)
7:05 pm: "Sobre la raó i les emocions, la ciència i l'art" - Victor F.Puntes (VHIR/ICN2)
7:10 pm: Music "Echelles" - Antoine Reserbat-Plantey and Banda Xdifference
7:30 pm: Roundtable "Sobre la hibridació de l'art i la ciència" - Francisco Valderrama (Belles Arts FV), Laura Lechuga (ICN2), Pep Gatell (Fundació Èpica/Fura dels Baus), Emili Marlés (Facultat de Teologia de Catalunya, AUSP). Modera Joan Mendoza (UB)
8:45 pm: Organ Music "Organ Nanotubes" - Eudald Dantí (organista) and music by Josep L. Viladot
9 pm: Closing - Raül Toran (ACCC)
Venue: Basilica Sants Màrtirs Just i Pastor (Barcelona)
More information: